ud130419
Yesterday Montana's governor signed the bill that formally decriminalizes homosexual sex. Activists in the state called it a watershed moment in their battle for equality. The measure cancelled a law classifying gay sex as a felony which had been struck down by the Montana Supreme Court 16 years ago and was no longer enforced. Previous attempts in the legislature to remove the law failed. This time, it passed the state Senate by a vote of 38-11 and the House, 64-35.
Linda Gryczan talks with reporters as Montana Governor Steve Bullock, (2nd from L) look on at the State Capitol in Montana April 18, 2013. Photo: Dan Boyce/Reuters
Robert Ingersoll and Curt Freed (pictured) are not politically active and did not take part in last year's statewide campaign on same-sex marriage. That might help explain why what happened at a Richland flower shop March 1 has so upended their ordinary lives. Freed and Ingersoll are now at the center of legal actions against Arlene's Flowers, where Ingersoll has been a customer for the nine years he's lived in the Tri-Cities and Freed for much of his life, reports the Seattle Times.
Arlene's owner, Barronelle Stutzman, told the couple that she wouldn't provide a floral arrangement for their September wedding because of her relationship with Jesus Christ. She said she has nothing against gay people but believes marriage should be between a man and a woman.
On Thursday, the ACLU of Washington filed a private suit on behalf of the two men, seeking damages from the florist and asking that the shop stop its practice of denying service based on sexual orientation.
Julie Saraceno, Missy Moo Studio/ Associated Press. Honest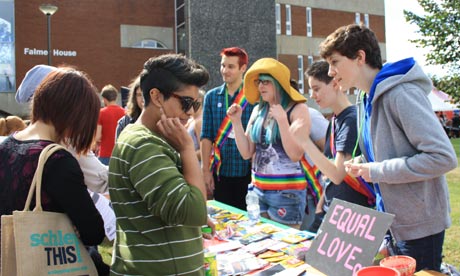 Homophobia is an issue that affects all UK universities, says National Union of Students LGBT officer Finn McGoldrick, who asks why aren't institutions doing more to support their LGBTI students. Today is the start of the annual NUS LGBT conference which this year is being held in Manchester. Members hope to reach an agreement on what campaigns the union will fight for over the next year. There are motions on tackling bullying and hate crime, protection for LGBT students studying abroad and understanding the specific needs of LGBT mature students, but Finn says the issue that needs addressing most urgently is the invisibility of LGBT students.
While homophobia and transphobia remain endemic on all campuses, universities still do not recognise LGBT students as a target group. "There's this wrong opinion that you go to university and suddenly you are free to be whoever you want to be and that it's really welcoming and accepting. But it's just not true. Institutions are still struggling to tackle the experience of all oppressed groups such as black students or women. But at least they attempt to have the statistics on these groups. With LGBT students, they only see it as a social issue." Finn complains LGBT students are not treated as a group which needs special measures while at university. But she insists bullying and hate crime are a huge problem.
Sophie Wolfson/Guardian
EXCLUSIVE! WORLD EXCLUSIVE! Your Super Soar-Away Activist can now reveal exclusively what has been whispered furtively in social networking websites and all around the world for years and years! But make sure you don't tell anyone because its a SUPER SOAR AWAY GAY ACTIVIST EXCLUSIVE. Ready? Right. Oscar Wilde …. died. Ssssh!

SP